This post is primarily an evaluation of my new Aquatherm autumn garment from Chillcheater. Some bonus material in the form of rolling and a few pictures from a gloomy day at Gyllebosjön is included.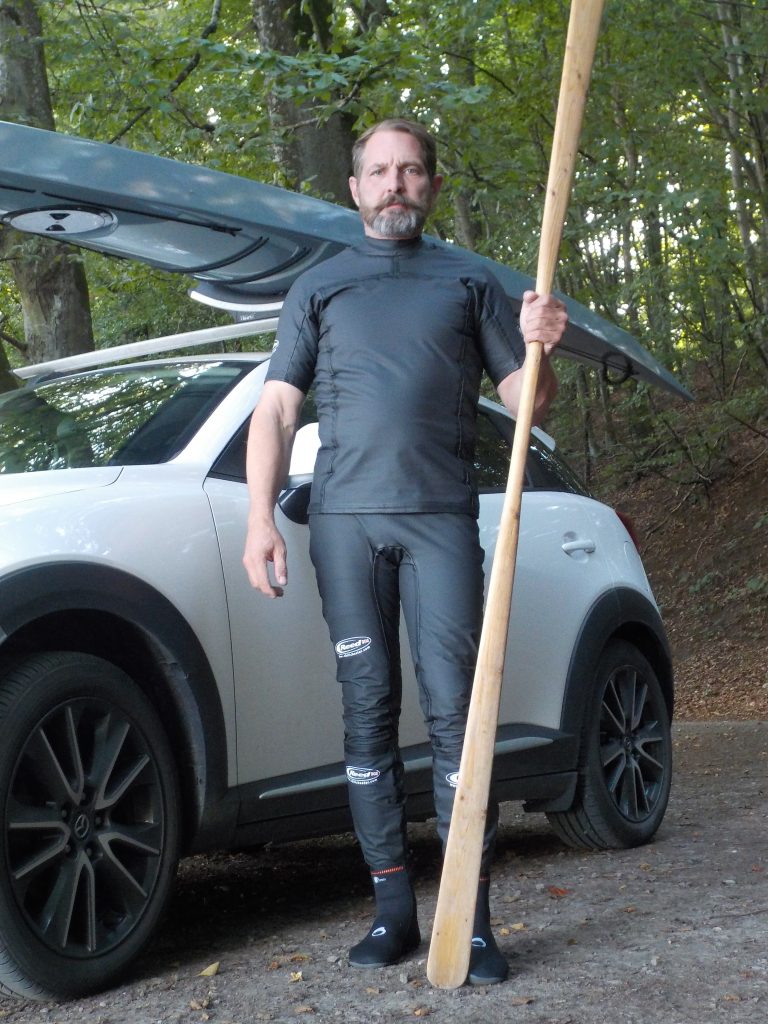 As a complement to my tuiliq, I have purchased a short sleve top, trousers and socks from Chillcheater, made in the material Aquatherm.
My idea with these items is primarily to wear them underneath the tuiliq as an extra seal, i.e. the tuiliq will provide the primary watertightness while the remaining Aquatherm garment keeps any leakage away from skin contact.
The purpose of this reinforcement of clothing is
partially that I do not intend to shave of my beard to get the tuiliq completely waterproof around the face, but want to keep my upper body dry nevertheless. There is a trimming mechanism to get a tighter face-fit of the tuiliq but I have not experienced any significant difference however I fiddle with that one.
In addition, in case of prolonged roll training, it tends to leak sparesly where the tuiliq joins the cock-pit coaming, which I assume is normal and reasonable, and for such occasions I would like a pair of trousers keeping also my legs dry.
partially because I want to determine how dry this combination of paddling clothes will keep me after a wet exit.
The purpose here is to assess how far into the autumn, or early in springtime, it is reasonable to use this equipement without jeopardizing safety or comfort. I find a dry suit clumsy and awkward, thus aiming at minimizing the use of it as far as possible.
---
A look at the wardrobe
Below is a picture gallery of my new clothing items, and a list specifying exactly which garment is included if anyone of you would like to obtain them for yourself.
Footnote: I want to make it clear that I am not sponsored, neither by Chillcheater nor any other supplier or company. I find that Chillcheater provides high quality gear to reasonable pricess (at least pre-brexit) and are service minded beyond any expectations, why I give them the highest score out of my own free and independant will.
From Reeds Chillcheater:
Aquatherm men's short sleeve top
Product code: MT
Available also with accent colour (yellow or blue) around the shoulders, and with zipper in the neck if you prefer that. Long sleeve version also available, product code: LST.
I chose the all black variant, for the reason of looking cool, and without zipper for maximum waterthightness. Short sleeves partially because I could use such a garment for cool windy summer days and partially since I imagine that long sleeves could fuzz with the tuiliq's wrist seals.
Link to Chillcheater's product site.

Pre-bent long trousers
Product code: PBLT
Also sold in a straight, i.e. not pre-bent, version (product code: LT), but why not pre-bent when they are going to be used for paddling I thought, and in an pre-bent 3/4-shorts model.
Link to Chillcheater's product site.

Waterproof wading socks
Product code: WS
There is also a shorter/lower version called "Aquatherm socks" (product code: SOX), but since my purpose is to remain dry after wading i choose the higher alternative. Assume this also increases the chances of creating a seal towards the pants, the longer the overlap the better should be a valid rule of thumb.
Link to Chillcheater's product site.
Several of Chillcheater's Aquatherm clothes are available also in fleece-lined versions. I haven't tested anything from this lined assortment and do not know how thick/warming the fleece is. Since I am a fan of the layer-on-layer principle for dressing, in order to be able to adapt the clothing to different conditions, I like to be able to remove the warming layer while keeping the outer layer, and that is not possible if these two layers are combined into one garment.
Furthermore, it seems like all the fleece-lined items are provided in the colour blue only, which may disrupt colour matching as well as paddlers image.
When shoping at Chillcheater, I fill in the measurement form available on their website and add this to my order. Then I let them assess if any of the standard sizes will fit or if there is reason to manufacture made-to-measure items, since it is difficult to determine yourself how close to the standard sizes you must fit in order to get a functional garment.
The only semi-mistake in this respect has been that my wading socks are a bit too wide around the calves, which will be commented on further down in the text, while the pants fits snuggly. In this case a pair of made-to-measure socks might have been optimal, but considering that this problem was easy enough to solve it would not have been worth the extra cost.
---
Testing
In reality, I conducted the tests on three different occasions, but in this English version i summarize the main parts together in a chronologically random order.
It is a bit awkward to get the Aquatherm clothing on and off since it is quite tight, which of course is intentional to keep water out. With experience from the tuilig, this will probably improve by dressing experience and by the material getting more flexible after some use.
I fokus on rolling since this would be the best way to challenge the watertightness of the garment.
As usual, there soon is a slight ingress around the face due to my beard. However, I don't feel anything of this since my Aquatherm shirt seals around the neck, within the tuiliq below the beard, and the small amount of water stays outside the shirt. Earlier, with an ordinary t-shirt, I would have been damp all over my chest by now.
After 20+ rolls I would expect also some water ingress between the tuilig and the cock-pit, based on how it normaly turns out. I cannot determine if this is the case since I don't feel anything thanks to my Aquatherrm pants. In normal paddle shorts I would have had larger or smaller water stains all over my thighs by now.
On the next test occastion i challenged by performing 60 rolls of different kinds. Then i took a short landing break to check under the hood, see the picture below. Dubside had considerably more water in his cock-pit after his roll exhibition at Läckö Kajakträff earlier this summer, that is for sure.
So far, completely as expected, or actually better.
Now to the bigger challenges: What happens if I am in water outside the kayak?
The first day I only test the legs since I have low hopes for tightness in the joint between shirt and trousers.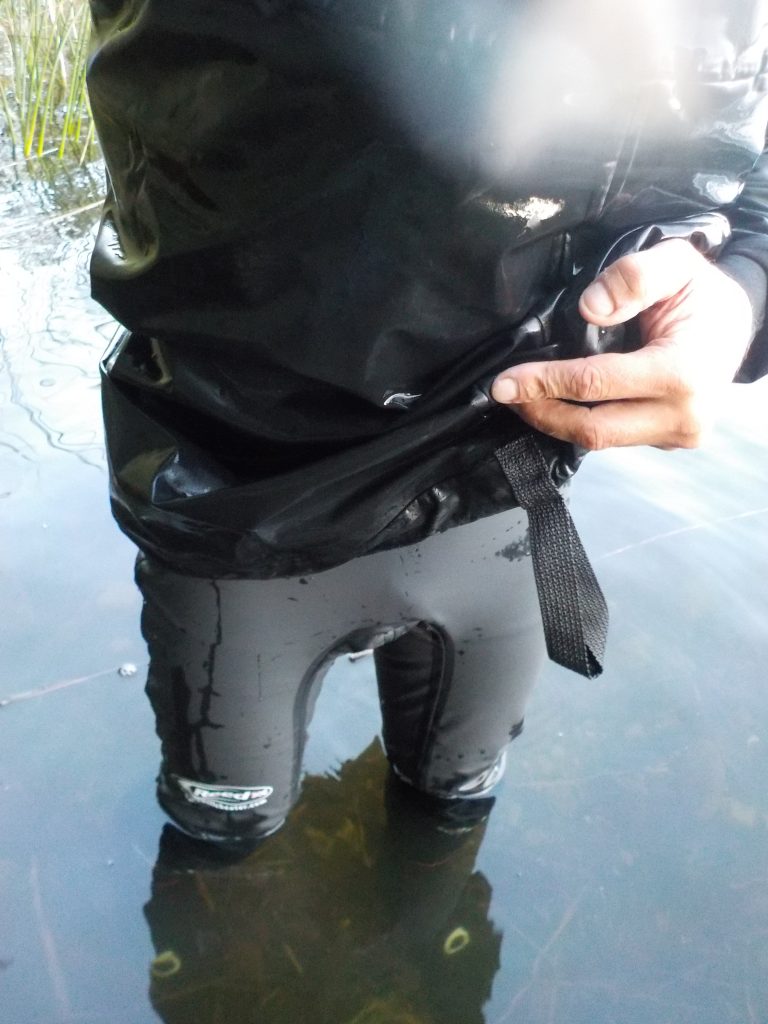 Testing the sealing between trousers and socks by wading in water upp to the thighs.
Not tight at all as it turns out…
To explore the limits, this time I have pulled the socks up outside of the pants, and water is surging in. Not surprisingly since the fit of the socks is significantly looser around the calves compared to the trousers, but I hadn't expected them to be filled with water this fast…
For the next test occasion I take the socks on first and then pulls the tighter pants on the outside in hope of creating a tighter seal.
How it went?
Thank's for asking, it turned out excellent!
There is not a drop of water coming in, me wading around with water up to the groin for several minutes.
I wear a pair of 5 mm neoprene socks outermost, partially to protect the Aquatherms when walking around on rough surfaces, but also to pad my feet. If i sit barefoot in the tight kayak I get some pressure sorenes on the heels and big toes.
So far, the garments in my autumn collection has met expectations by far. The only major part remaining is to check exactly how soaked I will be in case of a wet exit.
Does this suit give me any significant water protection or is it not much better than ordinary land-clothes?
This is of course crucial in relation to my hope that they from a safety point of view should be useful during late autumn and early spring. Otherwise they would just add comfort during the cooler parts of the summer when water temperature is favourable, at least until my roll is bullet-proof.
So, now it is time for this days main attraction: Wet exit.
Went over, climbed out. Almost immediately I felt getting wet around the waist. As I have anticipated it is not particularly watertight between trousers and shirt.
Swam around with the kayak for 5 minutes or so. After a couple of them I noticed water leaking in from underneath into the arms of the tuiliq. Didn't feel any water to my body, but since I have short sleeves on my Aquatherm shirt I became wet from elbows and down. A long sleeved shirt would probably have made a better job, but on the other hand it also might have made fuzz with the tuiliq's wrist seals?
I felt quite dry around feets and legs as long as I remained in the water.
But after havine re-entered the kayak using a cowboy rescue I realize, when the feets rest on the flooring, that there is actually quite a lot of water in the socks. I haven't noticed this earlier, evidently the water had warmed up when seeping down my legs so that I didn't actually perceive it. My belief was, unitl now, that I was wet down over the buttocks but not lower than that.
By this I conclude that as expected, the Aquatherm garment functions like a wet suit, there is water ingress, but so small and so slow that it heats up quickly by the body temperature, and the suit is so tight that it prevents further major water circulation sufficiently enough to avoid excessive amounts of new cold water to enter. I.e. it gets really cold immediately when capsizing, but then the chill decreases, at least for a while until the effects from the surrounding water propagates through to your body.
I experience that the Aquaterm clothing is actually better than any of my wet suits when it comes to limiting water ingress and circulation. Maybe because they have a tighter fit to my measurements, maybe because the material is more flexible and accommodative and thereby accomplish a better seal.
You should remember however, that a neoprene wet suit has a built-in insulation provided by the thickness of the porous material, wheather Aquatherm is much thinner and provides less protection from hypothermia caused by the cold water outside the suit. I have heard unconfirmed information that Aquatherm equals about 2 mm of neoprene when it comes to temperature insulation, but I havn't been able to confirm this from a secure source.
Consequently, you must complement the Aquatherm garment with sufficiently warm underwear, preferably in wool, in order to get the same insulation factor as in a reasonably thick wet suit. I have presently no notion if this added thicknes of the under layer will increase water ingress.
After landing I undress carefully to get an idea of how wet I actually am, down to the bones.
A fair amount of water is splashing around in the lower arms of my tuiliq. Most of it can actually be evacuated by pulling the wrist seals away a bit from the skin, allowing the water to pour out. This would be a simple enough manouver to perform in the kayak, should you be forced to paddle a bit before arriving at dry land. But perhaps I should order also a long sleeve top from Chillcheater to keep the lower arms dry as well, now before brexit makes prices skyrocket?
My woolen mesh undershirt is lightly moist, except around the waist where it is really soaky. However, it dried up quickly enoungh for me not having to change to another shirt before getting in the car going home. The mesh-concept seems to be efficient when it comes to not accumulating water.
The mesh long johns was slightly more damp than the shirt, probably since the force of gravity has made more water pour down into the trouser's legs than "pouring up" into the top.
The woolen boxer shorts are quite wet, they are not made of mesh and are therefore soaking up more water. The were not cold to wear, but I changed to other underwear before slipping into my land trousers since it is not comfortable be wet even if not beeing cold.
The woolen socks were the only part of the underwear that was totaly soaked, since all water pouring down from the waistline eventually ended up in the socks with nowhere else to go. I emptied the Aquatherm socks of about half a decilitre each. The inner socks were the only garment that was so wet that I would most definitively not even think about keeping them on while driving home.
Some out-of-scope, but nice, pictures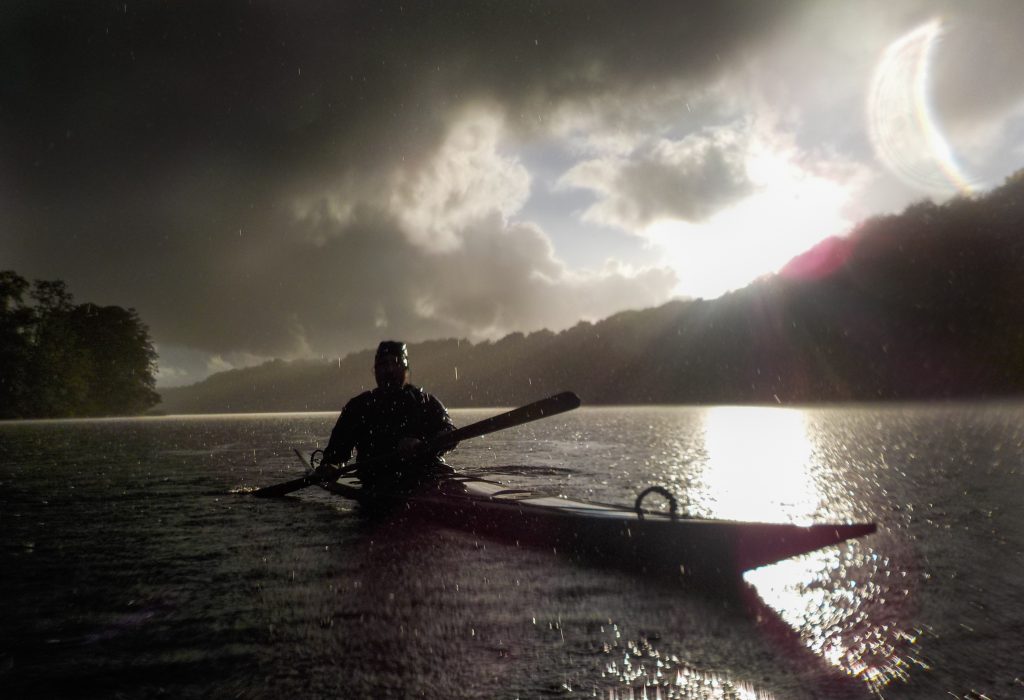 Simulated capsizing, not very convincing, followed by a roll.
Film: Mattis Andersson
Another roll.
I am not at all proficient in video editing, so you will have to keep up with initially watching me put on the nose clip.
Film: Mattis Andersson
---
Conclusions
My overall conclusions regarding the Aquatherm garment are that
they work very well as an extra water protection underneath the tuiliq during normal paddling and roll training, keeping me completely dry even if the tuiliq does not always keep 100% tight.
the combination of trousers and long socks keeps me totaly dry even if wading, as long as I stay out of deep water reaching over the waist band of the trousers.
at a wet exit, the Aquatherms protect better from against ingressing water than a conventional wet suit does. However, the time you can manage in cold water would be shorter compared to a wet suit since Aquatherm does not insulate from the surrounding water temperaturre as good as a reasonably thick neoprene suit would do.
if in doubt, a dry suit will keep you 100% dry…
Above all, I would like to stress the level of service, quality and delivery times provided by Reeds Chillcheater, a suppier I can highly recommend every day of the week!
Some further observations:
Chillcheater can also provide dry pants in the Aquatherm material, with integrated socks if you wish, which would most likely keep your lower body more dry, maybe those would be a sensible complement for making this dressing concept a little more adapted to winter conditions. But then you are one step back to the chunkyness that I don't like about dry suits.
The Aquatherm garments are perfetly nice on the inside to wear directly against your skin, i.e. it is not necassary with underwear for that reason. But I still prefer to use my thin mesh underwear, at least on the upper body, to take care of any perspiration.
The Aquatherm material dries very quickly since it does not absorb any water. If I hang the clothes up to dry when getting ashore they are usually reasonably dry by the time I have loaded tha kayak onto my car. If I have been bathing so that they are wet also on the inside, longer time for drying is of course required.
There will however, also without bathing, generate moist from perspiration on the inside of the clothes so it is a good idea to, when dry on the outside, turn them inside-out to allow them to ventilate the inside as well.
The Aquatherm socks have a seam going across the heel in an inconvenient location, dependant on sizing probably. This creates a fold that is annoying when walking, but when sitting in the kayak I haven't experienced any discomfort from this and that is after all the main thing.
Concerning the tuiliq, which is not really included in this review, I have only positive things to say. Much more accommodative than a dry suit, no separate spray deck establishing an additional weak-spot for water ingress, and, not least in my mind, you can wear the buoyancy vest underneath the tuiliq which is very practical when it comes to minimizing the amount of wet gear to stow away into the car after a roll session.
Comparison to wet suit:
I would choose Aquatherm before a wet suit in neoprene any day of the week. A neoprene suit is too warm to paddle in almost regardless of air temperature. Aquatherm would also be warm on a sunny summer day, but then you would do with an ordinary t-shirt.
Furthermore, in the wet suits I have tried, water ingress and circulation is larger than in my Aquatherm garment, which is a conclusive factor in the comparison. This is admittedly based on my subjective judgement and would of course differ amoung individuals depending on the fit of the suit.
The only situation where a neoprene wet suit would win this competition is if you need to spend a longer amount of time in cold water, since then the thicker neoprene would provide better insulation from the surrounding water temperature.
But if you are forced to spend time in really cold water, a wet suit would be an inadequate piece of equipment anyway, a dry suit would be the only sensible choice.
Consequently, I will probably never ever again use any of my wet suits now when I have an Aquatherm kit. Anyone wanting to buy a wet suit?
Comparison to a dry suit:
Finally, I contemplate about wheather my new autumn garment can compete with a dry suit in any aspect?
The latter I perceive as bulky and awkward, but on the other hand also the Aquatherm clothes require some effort to dress on and off.
But I feel a lot more agile and flexible in my Aquatherm suit, and it allows itself for adjustment to different conditions since you can use the parts independantly from each other.
Aquatherm also dries significantly quicker than a dry suit with a fabric outer layer, neither are there any zippers that can jam.
But do not forget, a dry suit keeps you 100% dry, theoretically.
Overall, safety performance of a dry suit triumphs over getting wet, but comfort and convenience promotes the Aquatherm garments.
Thus, my conclusion given my present paddling skills is that for a prospective winter adventure amoung the ice floes, which will not happen for years to come, the dry suit is on.
The same goes if kayaking in shady conditions where I am not sure if my roll will work, unless water temperature is on the safer side or land is in the immediate vicinity.
But if the water temperature is not freezingly cold and the circumstances are not overly hazardous, tuiliq and Aquatherm garments it will be since I enjoy and thrive a lot more in them.
---
To summarize, I can without hesitation recommend the Aquatherm products I have tested above, I am very satisfied with them and they met my expectations.
How pleased you would be is of course depending on under which conditions you would use them and what you expect from them. I hope my review can be of some guidance if you are thinking about getting an equivalent collection.
---